Microwave ovens are no longer used exclusively for reheating meals or making packet mac and cheese, they have come a long way on the technology front, and you will be surprised to know you could probably cook a 5-course meal in them if you tried.


With the ability to purchase microwave ovens that have the speed of your traditional convection microwave but the functions of an oven, you have an opportunity to get creative with microwave oven cooking.


Read our complete buying guide to learn important information and helpful tips on how to choose a good microwave oven.


1. Microwave size: Things to consider
Kitchen Layout

When looking at your cabinetry, you need to consider whether you would prefer a more traditional kitchen design or a more modern look.
A traditional kitchen design comes with a cooktop and oven pairing together. Meanwhile, a more modern kitchen design typically comes with an oven within the cabinetry eye height, paired with another oven or microwave.
Microwave oven size

When looking at microwave oven capacity, you will typically find them between 20-40 liters. Generally, the only advantage to a larger one is purely capacity and the ability to place larger dishes in it. If you are purely using it for defrosting and reheating a smaller size would be more than suitable.
2. Which types of microwave ovens to buy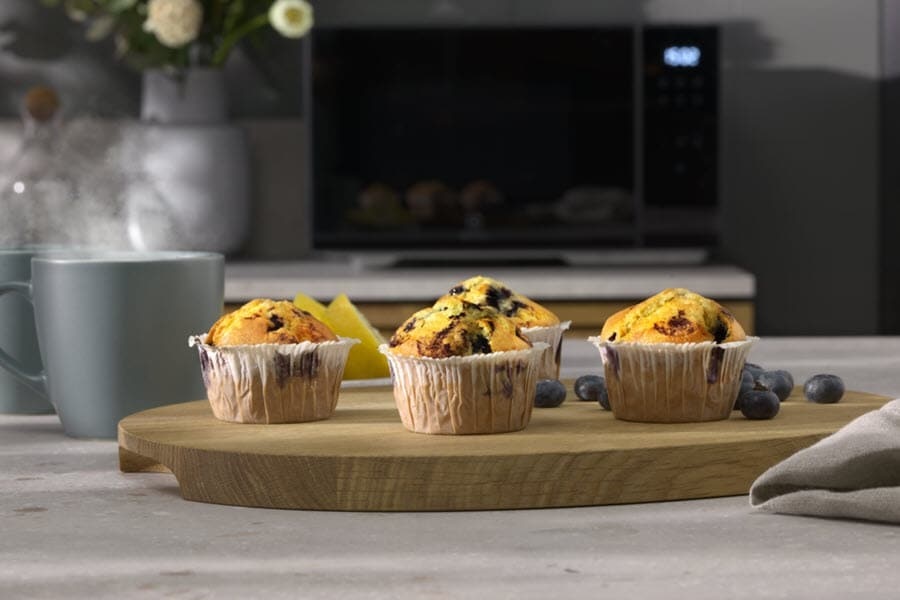 Built-in microwave ovens

Microwave ovens are not like they used to be, they are designed to be advanced in features and fit seamlessly into your kitchen with matching designs to your other appliances.


Ideal for:
Small family - large family

Apartment living

Entertainer
Capacity

25-44L


Watts

900W

Here are some highlighted features that Electrolux built-in microwave ovens offer:


Versatile cooking

With predefined options, you will be able to create dishes that seem like they come out of a convection oven at microwave oven speeds, with them being browned, crisped and packed with flavor. You are spoiled for choice with the ability to choose convection cooking or grill cooking on their own or combined.


CombiGrill program

Electrolux microwave ovens come with pre-set CombiGrill program that automatically divides the time between grill and microwave cooking to deliver perfectly cooked food in your microwave.


Full touch control panel

Simple to use and easy to clean, our touch control panel on our built-in microwave ovens make it an easy one or two-button touch, and you have total control over cooking temperatures, times and function settings. With the added safety feature of child lock, you can keep your family safe with ease.


Quick defrost

The defrost function delivers the right amount of power and time needed to restore your frozen ingredients to their ready-to-cook state.


Quick start

Just press the start button and the microwave is immediately set to 100% power for 30 seconds. Each subsequent press of QuickStart adds an additional 30 seconds to your cooking time.
Check out Electrolux built-in microwave ovens:
฿ 9,990.00 (tax included)
CombiGrill to grill and microwave in one program.

Cavity is easy to clean after cooking.
Wide turntable for cooking larger dishes.
See more
฿ 19,990.00 (tax included)
Convection for roasting, baking, and re-heating.

CombiGrill to grill and microwave in one program.
Cavity is easy to clean after cooking.
See more
Freestanding microwave ovens

Perfect for any household, a freestanding microwave oven allows you to plug and play. With its simple and modern design, you can place your freestanding microwave oven in a dedicated microwave oven spot or wherever you can fit it. With their easy-to-use control panel and easy to understand features, freestanding microwave ovens don't complicate the simple tasks of reheating and defrosting food.


Ideal for:
Family

Apartment living

Student accommodation
Capacity

23-40L


Watts

800-1100W

Here are some features to consider before buying a free-standing microwave oven:


Accommodate larger dishes for a crowd

When you need to cook for a crowd, the wide glass turntable will give you the option of cooking larger dishes.


Take up less kitchen space with slim design

This freestanding microwave oven has a slimline exterior to take up less space in your kitchen, but with a large internal capacity so you can cook larger dishes.


Adjust your power levels

Five adjustable levels give you the flexibility to alter the microwave power according to the dish you are cooking.


Clear digital display

It only takes one quick glance at your microwave's clear digital display and you'll get immediate feedback on how your dish is doing.

Read more: How to use a microwave oven effectively and safely


Check out Electrolux freestanding microwave ovens:
฿ 13,990.00 (tax included)
Inverter technology cooks evenly and efficiently.

Convection function for roasting or baking.
AirFry your food for a fried taste with less oil.
See more
฿ 9,490.00 (tax included)
Convection function for roasting or baking.

CombiGrill to grill and microwave in one program.
Crispy Reheat restores food's crispiness and crunch.
See more
See our infographics below on how to choose a microwave oven for your kitchen: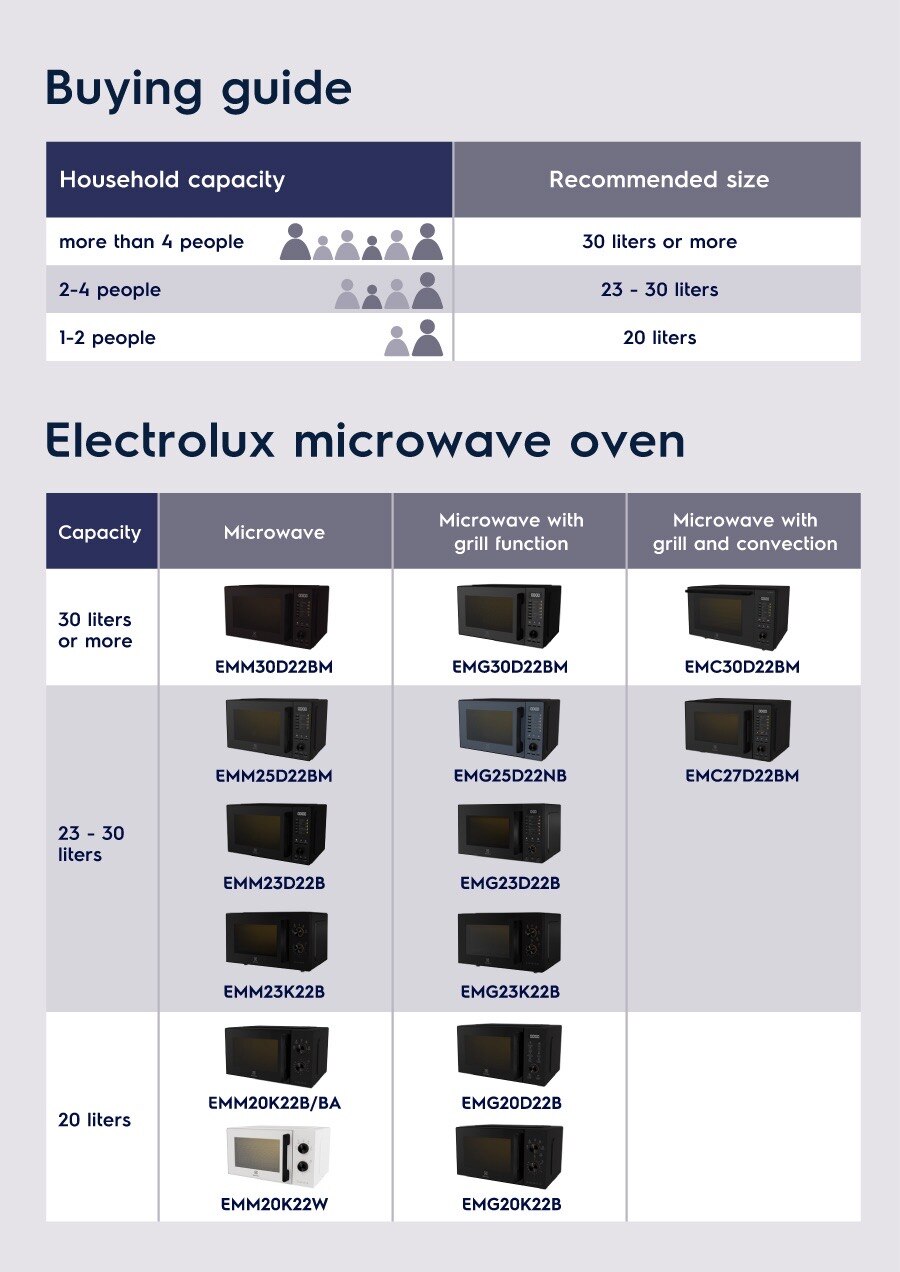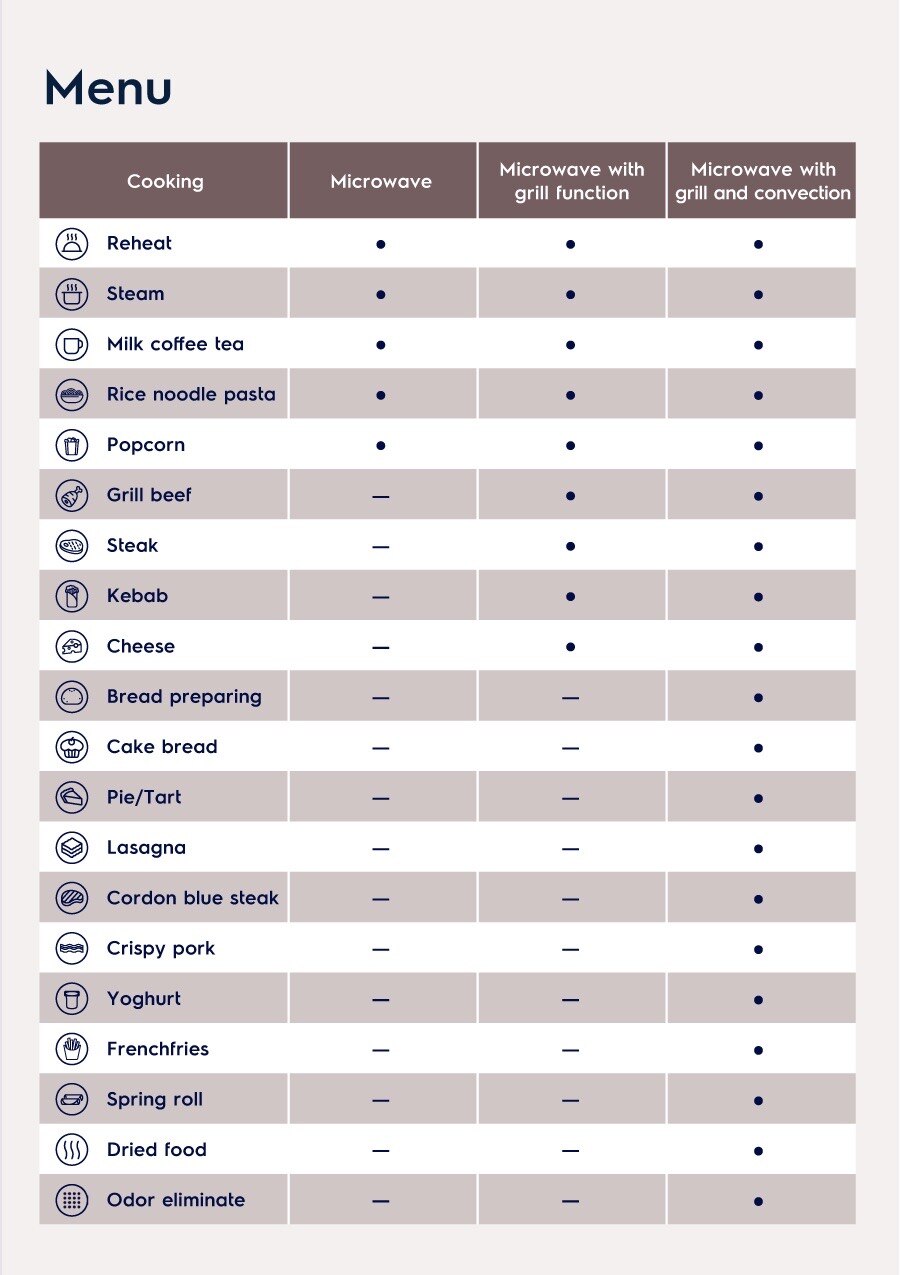 3. Microwave design & other considerations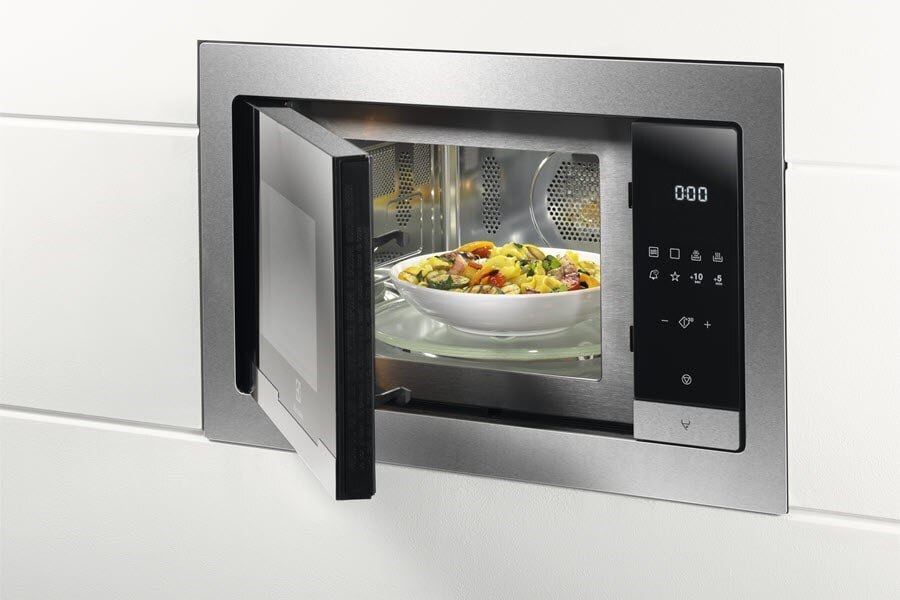 Where are you going to install your microwave oven?

Are you going to plug in and use wherever you can find a spot for your microwave oven? Or do you have a dedicated area where you would like to place your microwave? The answer to these questions can determine what style you could go with.

If you want to plug and play, freestanding is the way to go.


Do you need basic or more advanced functions?

Do you want a microwave oven that is easy to understand and reheat, defrost and cook with a simple touch of a pre-set function? Or do you like to have more control over setting the temperature and length on time? There are models for both kinds of microwave oven users.


For this reason, it is important to be clear what you ultimately need your microwave oven for and whether all the extra advanced functions will be wasted in your household.

Read more: How to clean your microwave: 5 cleaning hacks


4. Warranty & Service
Warranty

Subject to terms and conditions our stoves come with 24 months warranty in Thailand, following the date of purchase. Click here to view Terms and Conditions.


Support & Service

We have a Customer Care team available to assist you over the phone seven days a week, and a national network of experienced technicians and selected service agents. Offering a fixed price guarantee with no additional hidden labor costs, giving you peace of mind that your appliance is in good hands.

Click here to contact customer care.
Click here to book a service online.


Discover our fixed price repair service for built-in oven and microwave oven!
Microwave oven FAQs
What size is a built-in microwave?

Built-in microwave ovens are designed to fit standard cabinets widths, which can have different capacities from 25L to 44L, or more.

What is a built-in microwave oven?

Built-in microwave ovens are designed to fit into cabinetry, which allows for free space on the counter. Built-in microwave ovens need to be installed permanently and are normally fixed to walls or cabinets.

The installation needs to be done by a licensed contractor and you need to be aware of any restrictions around height position from the floor and breathing space around the sides.

.